According to a central European popular legend, Saint Nicholas and his devilish companion, called Krampus, visit children on the evening of 5th December. This evening is also called 'Krampus Night' ('Krampusnacht' in Germany) and precedes St. Nicholas Day (on 6th December). Discover the tradition of St Nicholas and its Krampus in this article.
Krampus scares and beats misbehaving children with branches and sticks; in some cases, he even eats naughty children and takes them to hell. On the other hand, St. Nicholas rewards well-behaved boys and girls with presents and small gifts. On St. Nicholas Day, little ones awaken to find their gifts from St. Nicholas or punishments from the Krampus.
The Krampus tradition is mainly rooted in
Central Europe
and, in particular, in those regions in the
Eastern Alps.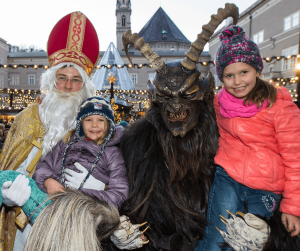 Image: Tourismus Salzburg-GmbH_Neumayr
Saint Nicholas
St Nicholas is the patron saint of children, and he is a kindly and generous man.
According to tradition, he was a Christian bishop who lived in the fourth century in a place called Myra (Asia Minor). He had a reputation for helping the needy and giving secret gifts to those who needed them the most. After his death, Saint Nicholas transformed into the legendary character called Santa Claus, who traditionally brings Christmas gifts to the little ones around the world.
On his gift-giving rounds, Santa Claus is usually accompanied by a few characters. Many of his companions, like the Krampus, are devil-like figures symbolizing evil. However, these creatures are normally under St. Nicholas' control: an affirmation that good always triumphs over evil.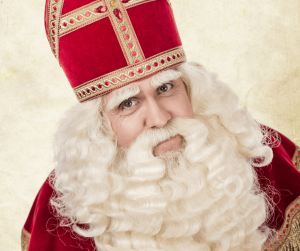 Krampus: Name, Origins, and Appearance
The Krampus is a folkloristic monster whose origins are unclear. It seems that this frightening figure originated in pre-Christian times. Then, with the spread of Christianity, it became associated with Christmas and with St. Nicholas.
The name derives from the German word 'krampen' which means 'claw'. This legendary beast is said to be the son of Hell and shares some characteristics with other demonic creatures such as fauns and satyrs. This devil-like character appears in many variations, which share some common characteristics. According to legend, the typical Krampus is usually a horned figure with a long red tongue wearing a coat made of fur and a hand-carved mask. These dark and hairy creatures are also known as Perchten or Tuifl, are sometimes in chains to show he is under the saint's control and would not be able to harm people.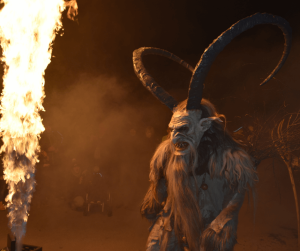 Festivities/Activities involving the Krampus
Krampus Parades
Krampuslauf ("Krampus run") is an activity involving Krampus, where people dressed as the monster parade through city streets, scaring visitors. During this event, people wear a wood-carved mask, goatskin, bells tied around their belly, and a tailor iron chain.
Nowadays, there are many Krampus runs in various parts of Austria, Germany, and South Tyrol and most of them are rather amusing than scary. The oldest Krampus run takes place every year in Toblach. Other important parades are those in Kastelruth, Lana, and Sexten.
The monster's expanding popularity also results in international festivals and horror films dedicated to the Krampus in the run-up to Christmas.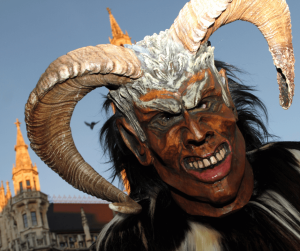 Krampuskarten
Krampuskarten are vintage Krampus greeting cards featuring the Krampus. These cards, which have humorous poems and rhymes, often depict Krampus looming menacingly over naughty children and whisking them away to hell. Such cards frequently read "Gruß vom Krampus!" ("Greetings from the Krampus!") and have been exchanged in Europe since the 1800s.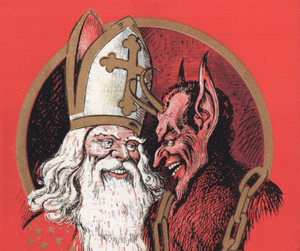 Looking to celebrate the tradition of St Nicholas and its Krampus in style this year? Check out our portfolio of hotels in Germany, Austria, and South Tyrol.