The Heritage Hotels of Europe Awards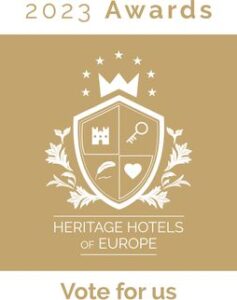 Voting for the Heritage Hotels of Europe Awards 2023 is open.
Do you have a favorite hotel that you think should receive official recognition for its excellence? If so, you can easily nominate your favorite property for one of the following awards:
Heritage & Design
Heritage & Wellness
Heritage & Gastronomy
Heritage & Hospitality
Heritage & Culture
Heritage & Romance
Host of the Year
Select country: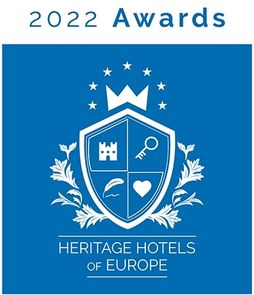 We proudly present the Heritage Awards 2022
The winners are:
The 2nd and 3rd place have been granted to:

Due to Covid19 and its associated limitations, no awards were made in 2020 and 2021.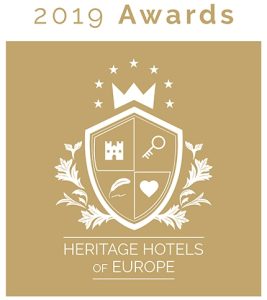 We proudly present the Heritage Awards 2019
The winners are:
Special Award 2019 Heritage & Experience: Almásy Mansion in Gyula, Hungary
The 2nd and 3rd place have been granted to:
Heritage & Design
2nd place: Château Gbeľany in Gbeľany, Slovakia
3rd place: Forgách Castle in Mándok, Hungary
Heritage & Wellness
2nd place: Hotel Elizabeth in Trenčín, Slovakia
3rd place: Romantik Hotel Gmachl in Elixhausen, Austria
Heritage & Gastronomy
2nd place: Hotel Villa Nečas in Žilina, Slovakia
3rd place: Schloss Kapfenstein in Kapfenstein, Austria
Heritage & Hospitality
2nd place: Monte Pacis in Kaunas, Lithuania
3rd place: Schlosshotel Mailberg in Mailberg, Austria
Heritage & Culture
2nd place: Hotel Schloss Leopoldskron in Salzburg, Austria
3rd place: Grandhotel Starý Smokovec in Starý Smokovec, Slovakia
Heritage & Romance
2nd place: Agriturismo L'Unicorno in Bedizzole, Italy
3rd place: Hotel Château Béla in Belá, Slovakia
Host of the Year
2nd place: Romantik Hotel Gmachl in Elixhausen, Austria
3rd place: Romantik Hotel Schloss Rheinfels in St. Goar, Germany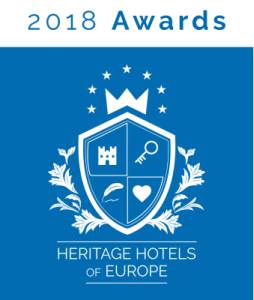 We proudly present the Heritage Awards 2018
The winners are:
Heritage & Design Award: Chateau Gbeľany, Gbeľany, Slovakia
Heritage & Wellness Award: Grandhotel Praha, Tatranská Lomnica, Slovakia
Heritage & Gastronomy Award: Strasserwirt – Herrenansitz zu Tirol, Strassen, Austria
Heritage & Hospitality Award: Romantik Hotel Gmachl, Elixhausen, Austria
Heritage & Culture Award: Hotel Schloss Leopoldskron, Salzburg, Austria
Heritage & Romance Award: Hotel Château Béla, Belá, Slovakia
Host of the Year 2018: Prónay Castle, Alsópetény, Hungary