Awards
Do you have a favorite hotel you feel should receive official recognition for providing outstanding experiences? If so, you can easily suggest your preferred establishment to receive one of the following awards:
Heritage & Design
Heritage & Wellness
Heritage & Gastronomy
Heritage & Hospitality
Heritage & Culture
Heritage & Romance
Host of the Year
The Heritage Hotels of Europe Awards will be handed out every year in autumn – the first ceremony will be held on 17th NOV 2018. All of the winners will be presented after the awards ceremony on this website.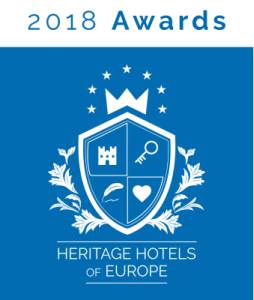 The voting period for the Heritage Hotels of Europe Awards 2018 is now closed.
The Award 2018 winners:
Heritage & Design                            Chateau Gbeľany, Gbeľany, Slovensko
Heritage & Wellness                        Grandhotel Praha, Tatranská Lomnica, Slovensko
Heritage & Gastronomy                   Strasserwirt – Herrenansitz zu Tirol, Strassen, Rakúsko
Heritage & Hospitality                     Romantik Hotel Gmachl, Elixhausen, Rakúsko
Heritage & Culture                           Hotel Schloss Leopoldskron, Salzburg, Rakúsko
Heritage & Romance                        Hotel Château Béla, Belá, Slovensko
Host of the Year                                Prónay Castle, Alsópetény, Maďarsko