Europe is blessed with many castles, often in stunning locations, all full of history. So, if you're looking for a special place to stay that's fit for a king and queen, why not try one of our romantic castle hotels? Here are 7 handpicked European castle hotels that you can consider staying in.
1. Hotel Burg Deutschlandsberg, Austria
The first castle hotel is the 12th-century Burg Deutschlandsberg, which lies in an idyllic setting surrounded by vineyards and the gentle hill country of south-west Styria. Today, you will find a 4-star hotel with a toque-awarded restaurant and its own castle museum. Moreover, the 24 charming rooms and suites invite guests to experience an appealing mixture of Baroque and modern elements. Numerous other rooms and a broad sunny terrace provide an ideal backdrop for seminars and weddings.

2.Castle Hotel Zamek Zdikov in Bohemian Forest, Czech Republic
Feel like royalty with a luxurious break in this grand castle hotel, located in one of the most romantic settings of old Bohemia. The former Zdikov hunting lodge now offers 25 stylishly renovated rooms with every comfort as well as three suites with their own salon.  You will also find a warm and elegant restaurant where you can now enjoy delectable local dishes in a lighter form.

3.Hotel Podewils in Krag, West Pomerania, Poland
Built in the 15th century, Hotel Podewils in Krag is one of the largest Knight's Castles in Pomerania. Guests enjoy total relaxation in a natural setting and dining experiences that would befit royalty. So, why not relax or work away from the hustle and bustle of the city in one of the stunning rooms overlooking the forest or the castle lake?

4.Romantik Hotel  Castle in St. Goar, Rhine Valley, Germany
Welcome to Romantik Hotel Rheinfels Castle, a fascinating 13th-century castle is set in the stunning valley of the Lorelei. The hotel is perched above the Middle Rhine Valley, a unique cultural landscape and UNESCO World Heritage Site. This fairy-tale castle boasts beautiful rooms and suites, various restaurants, a wellness area and breath-taking views high above the valley. Ready to have a royal experience?

5.Hotel , Belá
Follow the footsteps of royalty with a stay at the historic Château Béla. Its picturesque landscape of Southern Slovakia and the unique atmosphere of the castle will provide unforgettable impressions. The 5-star hotel, the rooms and suites are especially remarkable due to their first-class, individual style and comfort. Additionally, the hotel provides a premium gastronomic concept, numerous sports and cultural activities, and a choice of relaxing wellness options.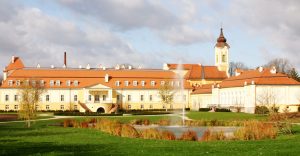 6. Englar Castle in Eppan, South Tyrol
Set in a hilly location with chapel, active farm and winery, Schloss Englar is an extraordinary 500-year-old castle commanding majestic views. It lies nestled amongst the orchards and vineyards of the enchanting sun-kissed hills in South Tyrol. Period furniture lends warmth to rooms and junior suites with old stucco- and coffered ceilings. Time moves slowly here!

7.Castle Hotel Szidónia in Röjtökmuzsaj, Hungary
Want to feel like a king or queen for a weekend? Then, Castle Hotel Szidónia is for you! In the "corners" of romantic Castle Hotel in Röjtökmuzsaj you can feel the atmosphere of old times, but you can also take full advantage of the comfort of today. So why not pamper yourself at the Szidónia Castle hotel, in a mysterious world of wellness, leisure, divine food  and events?

Intrigued by everything royal? Then, look no further and try one of our romantic castle hotels.