The festive season is upon us and the Christmas spirit sparkles everywhere.
For Europe, we all know what that means: authentic, traditional and unique Christmas markets! The start of the festive season is signalled by wooden chalets selling delicious food, decorated Christmas trees standing on every corner and dazzling lights illuminating city street streets. Combining the magical tradition of Christmas with impressive attractions, Christmas Markets around Europe are truly unmissable.
Get ready for a lot of Christmas cheer with these exceptional European Christmas markets.
Budapest, Hungary
The Advent Feast at the Basilica in Budapest is one of the most popular and renowned Christmas fairs in Europe. It was also declared the best Christmas market in Europe in 2020. This Christmas market features hundreds of stalls lining the square, as well as weekend folk dance shows and a skating rink.
As no high-standard Christmas fair can be complete without proper background music, celebrities, bands and gospel choirs will perform several times on the stage of the fair.
When: From 19th November 2021 to 2nd January 2022

Vienna, Austria
Vienna Christmas Dream is definitely on the podium for the best Christmas Markets in Europe.
This market, which takes place in front of City Hall, has various stalls selling culinary delights, arts and crafts such as Christmas decorations, and other high-quality goods. Moreover, captivating entertainment programmes like cookie and candle-making classes, make attendees look forward to Christmas with even greater anticipation.
When: From 12th November to 9th January 2022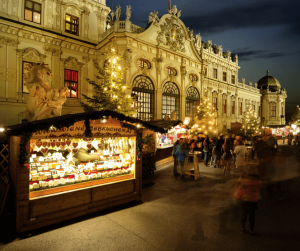 Image: Wien Tourismus-Christian Stemper
Zagreb, Croatia
Zagreb's uniquely beautiful Christmas fair, opens its doors beneath the stunning backdrop of its iconic cathedral.
Regarded as one of the best Christmas market destinations, Advent Zagreb will take you back to your childhood.
Here you will find warm lights, smiling faces, delicious food and drinks, colour-popping illuminations and people dancing on the notes of Christmas carols.
And if you head to Advent Zagreb, don't forget to visit the impressive Ice Park on King Tomislav Square and to taste the delicious Medenjaci cookies, a traditional Croatian recipe for Christmas.
When: From 29th November 2021 to 2nd January 2022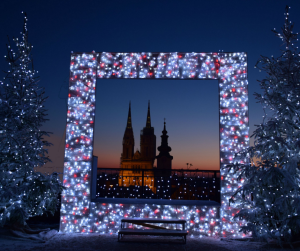 South Tyrol, Italy
Long-favoured as a festive destination, South Tyrol attracts countless visitors every year.
Here you will find decorated market booths selling products from local artisans, such as home-made candles, wood-carved sculptures and Christmas decorations.
Invigorate with steaming mugs of mulled wine while the chill of the open air is warmed by the bracing aroma of roasted chestnuts and the sweet flavour of cinnamon and cookies.
When: From mid-November 2021 to 6th January 2022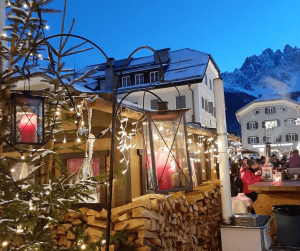 Cologne, Germany
Large, lavishly decorated Christmas markets shine in Cologne's city centre.
Take a stroll in the city centre and be amazed by hundreds of stunning lights suspended overhead. It is the magic of Christmas that only Cologne can offer during the festive period. However, there are also many smaller Christmas markets outside the city centre. These range from neighbourhood markets selling goods from local businesses to markets that only offer culinary specialities and unique weekend markets.
When: From 22nd November to 23rd December 2021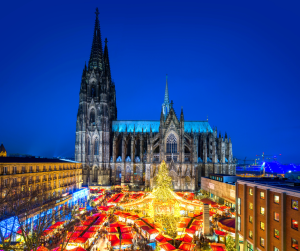 Bratislava, Slovakia
If you're after childlike wonder, look no further than Bratislava.
The Slovakian capital boasts hundreds of chalets selling wooden toys, a gleaming ice rink, a magnificent tree in the main square and thousands of lights all around.
Take the chill off the evening with a glass of mulled wine or punch and try some foodie treats such as pancakes, luscious cakes and sausages.
When: From 23rd November to 23rd December 2021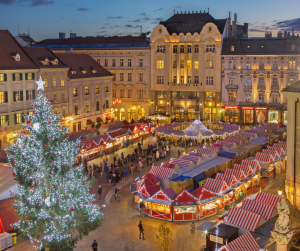 Salzburg's Christmas Markets
Offering a breathtaking view of the city as well as a romantic athmosphere, Christmas Markets in Salzburg are truly unmissable. There are 2 main Christmas markets selling tree ornaments, Christmas delicacies and much more.
Christmas Market in the City Centre
The origins of the popular Salzburg Christmas market go all the way back to the late 15th century. Located arund the Cathedral of Salzburg and at the foot of the Hohensalzburg fortress, it has an extensive programme of events. Here, you will discover practically everything you could possibly wish for.
When: From 18th November to 26th December 2021
Image: Tourismus-Salzburg- Breitegger Guenter
Advent Magic in Hellbrunn
Thanks to its idyllic atmosphere, Schloss Hellbrunn attracts several visitors every year.
Beginning in mid-November, the inner courtyard of this stunning Castle is turned into the romantic backdrop for one of the most beautiful Advent markets in the City of Mozart known as Hellbrunn Advent Magic. It features over 700 conifers decorated with Christmas balls and lights, 24 windows of the palace transformed into a huge Advent calendar, an eight-meters-tall Christmas angel as well as tempting treats and Christmas gift ideas.
When: From 18th November to 24th December 2021
There's nothing in the world quite like the holiday season in Europe. And if you are looking for the right accommodation in Europe while you are visiting the best Christmas Markets, have a look at our portfolio.