Oktoberfest is a two-week annual festival in Munich (Germany) ending on the first Sunday in October. The 2021 Oktoberfest has been cancelled due to Covid19. Despite this, we want to tell you more about this festival, which is one of the largest and most popular ones.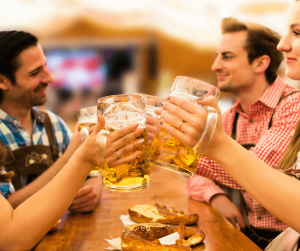 Origins of the Oktoberfest
Do you know when the Oktoberfest originate? This festival originated in 1810. On 12th October 1810 the citizens of Munich (Germany) were invited to attend the festivities in celebration of the marriage of the Crown Prince of Bavaria, who later became King Louis I, to Princess Therese von Sachsen-Hildburghausen.
The event concluded five days later with a horse race in the presence of the Royal Family. The following year, the horse race took place in combination with an agricultural fair to boost Bavarian agriculture. After a few years, from 1818, visitors could also enjoy food and drinks from local booths and beer stands, which grew very rapidly. Also, visitors could have fun with carousels and fun rides.
In the 1890s, large beer tents and halls started to replace booths.
Nowadays, the horse races no longer take place, but the Agricultural Show is still held every three years during the Oktoberfest.
Oktoberfest today
Nowadays, Oktoberfest has transformed into a 17 or 18-day celebration, attracting more than six million people every year. This festival starts on the second to last Saturday in September at noon, and it ends the first Sunday of October following German reunification day on October 5.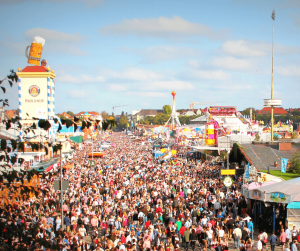 There are 14 main beer hall tents. As Oktoberfest is a celebration of Bavarian traditions, the only beer you'll find during the festival is brewed within the city limits of Munich. Here are the six breweries in the Oktoberfest grounds: Späten, Augustiner, Paulaner, Hacker-Poschorr, Hofbräu and Löwenbräu. These breweries are also represented in parades that feature beer wagons and floats along with people in folk costumes.
Only beers that fit these criteria are considered Oktoberfest Beers.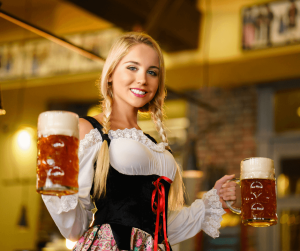 Interesting facts about Oktoberfest
People drink a lot 
Did you know that in 2018 Oktoberfest's attendees drank about 7.5 million litres of beer? This is undoubtedly a huge quantity!
A break from beer
Wondering what you can do at Oktoberfest beside drinking beer? In the fairground surrounding beer tents you will find many special events takes place. Other entertainment includes games, amusement rides, music, and dancing.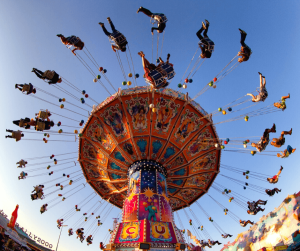 Not only beer…
While beer will be occupying the overwhelming majority, there are also some wine and champagne options in the Weinzelt – wine tent.
Locals call it "Wiesn"
'Wies'n' means "field" or "meadow" in the Bavarian dialect. It's named after the Theresienwiese, which is the land where the festival takes place. Moreover, it also takes its name from Therese von Sachsen-Hildburghausen, the Princess whose wedding inspired the Oktoberfest tradition.
Delcious food 
Oktoberfest has a ton of delicious foods to try! In fact, there are around 140 restaurants and food stands. For instance, have you ever tried the typical freshly baked, salt-strewn pretzels? Also, the the classic "Wiesn-Hendl" (grilled chicken) is extremely popular. Finally, you can taste traditional sausages and many dessert options!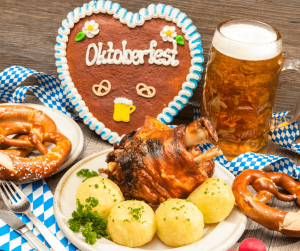 Planning to attend the 2022 Oktoberfest? Have a look at our hotels in Germany for a memorable stay. Prost!