Like all popular European destinations, Germany sees visitors throughout the whole year—rain, snow or shine. Find out the top places and attractions to visit in Germany in every season.
Summer
Planning to travel to Germany in summer? This is a wonderful time to visit this extraordinary country. From enjoying some hiking and biking into the Alps to visiting popular cities filled with activities and outdoor entertainment, the possibilities are virtually endless.
Freiburg
Welcome to Freiburg, the sunniest city in Germany! This is a great destination year round, but it is especially wonderful in summer due to its nice weather. Additionally, Freiburg represents an ideal base to visit the picturesque Black Forest region or take a stroll around smaller villages like Titisee. Alternatively, visiting Freiburg's old town is a great alternative.
Rügen Island
Do you prefer going to the seaside during summer months? So, the wild beaches and chalk cliffs in Rügen will leave you speechless! Additionally, this pretty island situated in the Baltic Sea has many great cycle paths.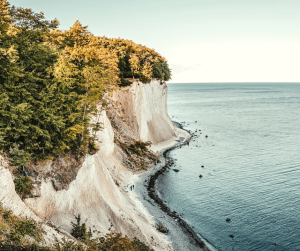 Koenigssee
If you are heading to Germany in summer, we can highly recommend a stopover in Koenigssee. This scenic destination is renowned for a large natural lake called Koenigssee and surrounded by the Berchtesgaden National Park. Also, you can admire this nature paradise from one of the several hiking trails or try outdoor activities like mountaineering and rafting. The choice is yours!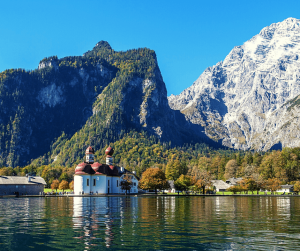 Autumn
With its colourful foliage and cool crisp air, Germany is a must-see destination to visit in fall.
Wine Route in Rhineland Palatinate
Are you a wine expert or wine curious? Then you should tick the Rhineland Palatinate's wine route off your bucket list this autumn. Enjoy gorgeous views and admire picturesque hamlets along this route while you smell the thick aroma of vines. It's a remarkable experience!
Rakotzbrücke
Are you after a fairy-tale land with stunning colours? Then look no further than Rakotzbrücke. Also known as the Devil's Bridge, Rakotzbrücke is a stunning stone bridge in Saxony. This bridge is a delightful spot to visit any time of the year, but its beauty in autumn is almost tangible.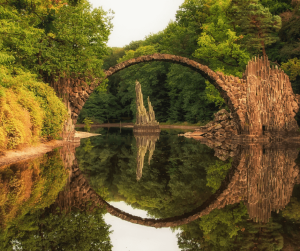 Winter
White snow, Christmas lights and mountains covered with snow – winter is the most magical season in this central European country. Here are our suggestions for the best places in Germany to enjoy a winter wonderland.
Located in Bavaria, Zugspitze is Germany's highest mountain peak. Here you can try winter sports like skiing, snowboarding, sledding and cross country skiing just to mention a few. Do you prefer relaxing in a chalet with some typical German food? You're covered too!

Dresden
Dresden is a gorgeous city at any time of the year, but in winter it feels like a magic fairyland.
Winter in Dresden is all about snow rendering everything quiet and still, properly cold weather and Stollen. Indeed, Dresden is home to Stollen, a fruit type bread with cinnamon and topped with powdered sugar. Why not head to the Frauenkirche Christmas Market and try this mouth-watering cake?
Partnachklamm
You can't turn around in Germany in December without visiting Partnachklamm, a beautiful natural wonder situated one hour south of Munich. Did you know that the 80-metre waterfall (called Partnach Gorge) freezes in winter and leaves a jagged curtain of icicles?
Spring
Germany in spring is a treat for the senses with blossoming trees dotting the landscapes, sunny days and warm weather.
Neuschwanstein Castle
Spring is the perfect time to do a castle tour, and experience these beauties. We recommend hiking to Germany's incredible Neuschwanstein castle, located just an hour and a half from Munich.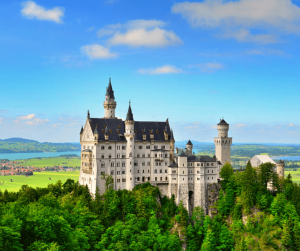 Hamburg
Whatever your preferences, you will surely enjoy your spring break in this wonderful port city. Start your visit with a waterfront stroll and breathe the buzzing atmosphere of the many shops and restaurants lined up here. Then, walk through the city centre to admire the beautiful town hall and the other stunning buildings. Finally, climb the tower at St. Michaelis Church for a fantastic city view.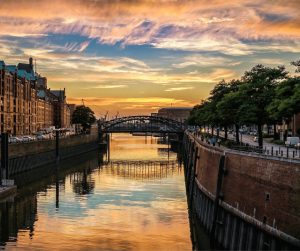 Undoubtedly, Germany is an attractive year-round destination with treasures to uncover in all seasons. Which are your favourite attractions in this central European country?
Whatever your reason for visiting Germany, make sure you book one of these hotels for a truly memorable experience.