Are you ready to celebrate summer with a selection of mouth-watering summer recipes?
Keep your cool while dining on these delicious and light seasonal specialities, either on the terrace of an authentic local restaurant or in your favourite hotel. Join us as we take you through the best European summer dishes.
Pasta with Zucchini, Ricotta and Basil
If you´re looking for an incredibly tasty pasta dish with a slightly fresher take, you should try this Italian dish. The version we recommend is filled with fresh summer zucchini and Italian artisanal ricotta.
However, you can try many other summer pasta versions. Here are just a few:
Pasta with Shrimp and San Marzano Tomatoes
Pasta al Limone (Pasta with lemon-cream sauce)
Orecchiette with Buttermilk, Peas, and Pistachios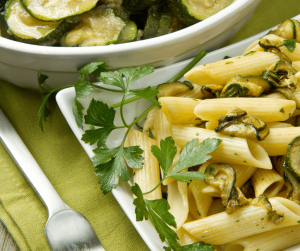 Summer Salmon Niçoise
Are you looking for a fresh dish during those hot and sticky summer days? Loaded with so many simple yet explosive flavours, a classic Salmon Niçoise salad is just the perfect dining option. This version features baked salmon, eggs, green beans, radishes, and olives. This is one of our favorite summer dishes.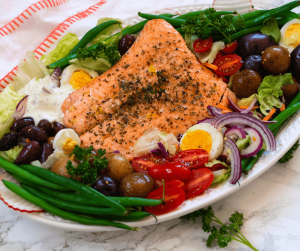 Horiatiki (Greek Salad)
Is there anything better than a good salad to keep you cool? More commonly known abroad as 'Greek salad', horiatiki, is made of Greek feta, juicy red tomatoes, crisp cucumber, sharp onion and olive oil.
Why not enjoy your horiatiki in a hidden outdoor terrace overlooking the sea with a glass of local wine? You've got your perfect mid-summer night evening!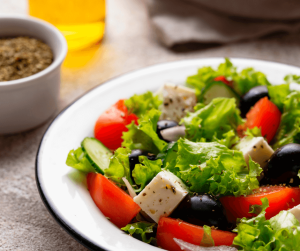 Pan Con Tomate (Tomato Bread with Anchovies)
Here is a no-fuss and incredibly tasty appetizer from Spain. Pan con Tomate is a Catalan Tomato Bread with Spanish Anchovies, consisting of ripe tomatoes, extra virgin olive oil and high-quality anchovies. Top-quality ingredients make all the difference here.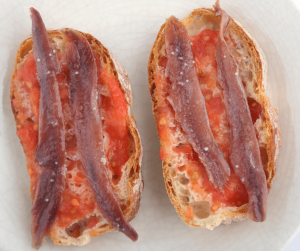 Summer Wraps
When you're tired of the same old sandwich, switch things up with a wrap. Wraps are just the perfect summer dish, and you'll have room for dessert!
If you like chicken, for example, go for chicken-avocado or chicken-salad wraps. Do you prefer veggies? Then, try a hummus and veggie wrap, a delicious, fresh and healthy version.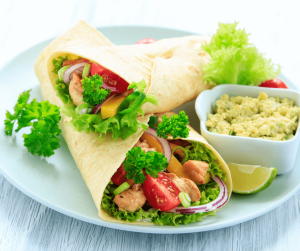 Veggie Pizza
This colourful, healthy pizza looks as fresh as it tastes. It will delight vegetarians and carnivores alike. To personalise your toppings, use your latest garden harvest or leftover veggies. Under a base of rich tomato sauce and delicious mozzarella, you can have cherry tomatoes, artichoke, bell pepper, olives, red onion, baby spinach and many more.
Did you know that veggie pizza is a brilliant way to use up whatever veggies you have at the ready? Discover your favourite one and taste my own "ultimate" veggie pizza.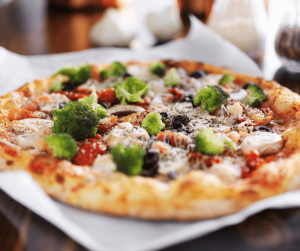 Strawberry Crepes
Have a day jam-packed with summer activities? There's nothing as awesome as a filling breakfast at the beach that's also refreshingly cold.
So why not start the day off right with these Creamy Strawberry Crepes! These delicate crepes are rolled up with a fluffy cream cheese filling and sliced strawberries. Yummy!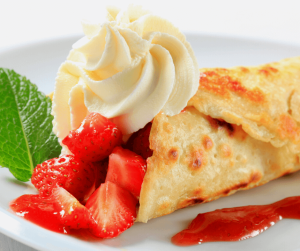 Affogato
Summer time certainly doesn't mean we'll be giving up desserts any time soon.
Have you ever tried Affogato? In this Italian dessert a scoop of vanilla gelato is scooped into a cup and a shot of hot espresso is poured on top. Although Affogato originated in Italy, you can find it around the world.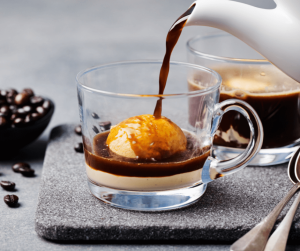 Dig into all these summer dishes and delight your taste buds. Visiting Europe this summer? Have a look at our collection of hotels.