Going to a spa hotel can help you get better in spirit and energy, improve the quality of your life and ultimately live a memorable experience.
If you want to travel in quiet, luxurious and pleasant places, check out our selection of the best wellness hotels in Europe.
Spa Hotels in Slovakia
The Castle Hotel The Grand Vígľaš
The Grand Vígľaš is a place where history and luxury service meet. Located near the town of Zvolen, the hotel features 55 beautiful rooms in eight categories.
Relax with us in the hotel wellness centre. Here you will find a sauna, a hot tub and a 24-hour front desk. Alternatively, why not relax at the property's bar and try some traditional dishes in the on-site restaurant?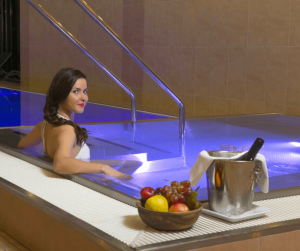 Grandhotel Praha
Built in beautiful Art Nouveau style, Grandhotel Praha brings the guests back in time to magical moments of the past. Grandhotel Praha in Tatranská Lomnica offers 108 rooms and 15 suites.
Try the extensive Grand Mountain Spa with a unique outdoor heated pool offering unforgettable views. Here you will find relaxation, massages and treatments based on traditional Tatra herbs and forest fruits.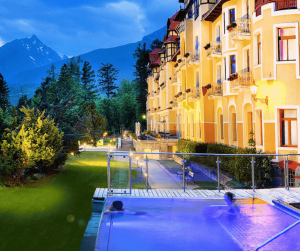 Spa Hotels in Poland
Dwór Kombornia
Located in south-eastern Poland, Dwór Kombornia is a magical place where time moves slower and where you will be put in a brilliant mood by the surrounding nature.
Head to ChocoWine Spa, the only spa in Poland specializing in using the beneficial properties of wine and chocolate. This is where you can experience unusual sensations while taking a wine bath or getting a chocolate body massage.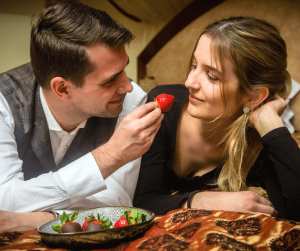 Hotel Dębowy Biowellness & SPA
Hotel Dębowy Biowellness & SPA is surrounded by a magnificent 10-ha park at the feet of the Owl Mountains, a range of the Sudety Mountain. In the Oak Palace and the Oak Residence**** you can choose among 36 rooms.
Hotel Dębowy Biowellness & SPA has the renowned SPA which comprehensively uses bee care products. It includes Apitarium, a unique bathhouse that offers traditional rasul and apitherapy, as well as external biowellness zone with the organic bio pond.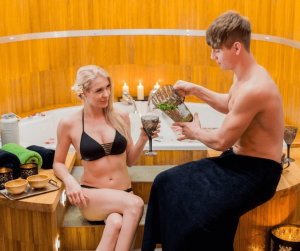 Spa Hotels in Hungary
Castle Hotel Szidónia
Castle Hotel Szidónia is an ideal choice for a romantic getaway, as a venue for dream weddings, and with modern technology for conferences and business events.
Pamper yourself at the stunning spa, in a mysterious world of wellness, leisure, conferences and events. The pools and baths are fed by their own springs, while spacious bathing and sauna facilities promote total relaxation.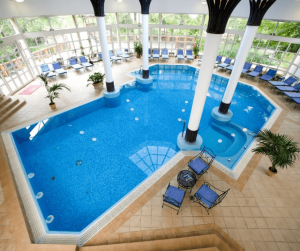 Spa Hotels in Italy
Hotel Villa Kastelruth
In the heart of the Dolomites, Hotel Villa Kastelruth offers modern comfort in a historic Villa ambience.
Villa Kastelruth welcomes you with great Tyrolean cuisine, a large garden, an outdoor pool heated all year round, an outdoor whirlpool and two spectacular panoramic saunas with breathtaking views of the Dolomites. Refreshing spring water and herbal teas are available throughout the day in the sauna area.
Spa Hotels in Croatia
Puteus Palace
Puteus is a renovated palace from 1467, with 550 years of history. This completely new heritage 5 star luxury with 15 rooms & suites guarantees impeccable personalized service.
Guests can relax in the outdoor and private wellness area including: outdoor pool, hot tub, finnish sauna, jacuzzi and massage.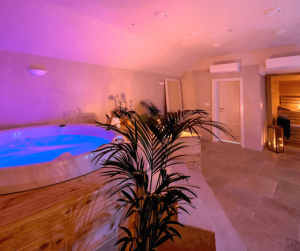 Take care of yourself during your next holiday and travel to the most beautiful Wellness hotels in Europe.