If you are visiting Lisbon for the first time, you may feel overwhelmed by the multitude of things to do. Lisbon is a multicultural, passionate, multifaceted city that will conquer you with its mix of modern and old-fashioned.
Have a look at this travel guide to discover the best things to do in the capital of Portugal.
1) Visit Cabo da Roca
If you go to Sintra, visit the westernmost point of mainland Europe, Cabo da Roca.
Set on the edge of Sintra's National Park, this prominent cape offers spectacular sea views that you don't want to miss. It really feels like it's the end of the world.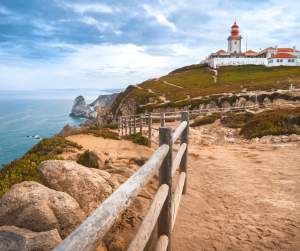 2) Wonder at Torre de Belém
Soaring high above the seafront of the Lisbon quays, Belém Tower is a UNESCO World Heritage site.
Displaying a combination of Gothic and Manueline architecture, this landmark attracts many visitors every day. From here you can enjoy an astounding view over Tagus river. So, why not tick it off your bucket list?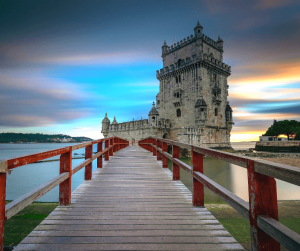 3) Taste some Traditional Portuguese Food
Do you have a sweet tooth?
Then, Lisbon will certainly become your favorite destination!
From the famous Pastéis de Nata in Belém, to tartes de maça, to travesseiros in nearby Sintra, in the capital of Portugal you can indulge your senses.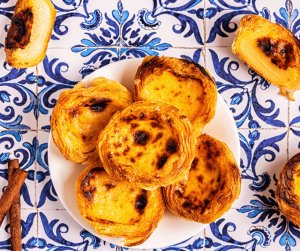 4) Listen to some Fado
While in Lisbon, why not listen to some Fado?
Fado is Lisbon's traditional music genre, renowned for its expressive and profoundly melancholic character. Also, Fado has been recently added to the Unesco's list of World' s Intangible Heritage. It's definitely one of the best things to do in Lisbon at night.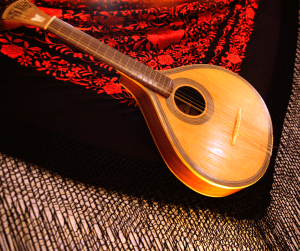 5) Ride Tram 28
Tram 28 is definitely one of the top attractions in Lisbon old town.
Drive past the main Lisbon points of interest, and pass through some of the city's most notable neighborhoods and popular attractions.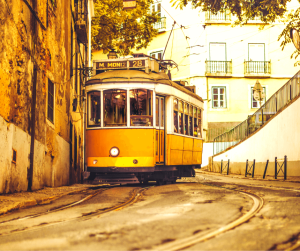 6) Explore St George's Castle
St George's Castle, an iconic hilltop castle, is unquestionably the most visible landmark of Lisbon.
Before the Moors built the fortress in the mid-11th century, the Visigoths settled here. Today it has mighty palisades and crenulated towers to admire, along with an encircling dry moat and other anti-siege features.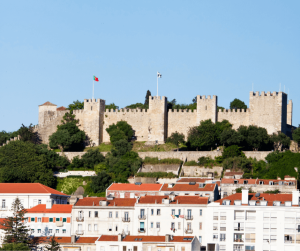 7) Enjoy the Mercado da Ribeira
At Lisbon's most famous food market you will taste delicious local food and sip fine Portuguese wines. You can't make a bad choice when ordering from the 24 restaurant stalls and eight bars.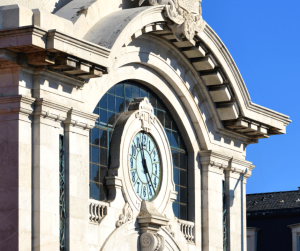 8) Marvel at the Aqueduto das Águas Livres
Another great visual landmark of Lisbon is the Aqueduto das Águas Livres. It supplied fresh water to the whole city when it was built in 1744.
Join a pre-arranged walking tour to get to know this important monument.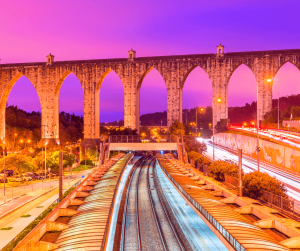 Where to stay in Portugal
Planning a getaway to visit some of these amazing places in Portugal?
When it comes to hotels, Lisbon offers a great amount of accommodation options, for all necessities and budgets. Then, you should try one of our popular and highly-rated hotels.
Solar Do Castelo: a unique boutique hotel located inside the medieval building where history and passion merge perfectly.
As Janelas Verdes: this boutique hotel in Lisbon old town comprises 29 rooms, a living room and a library with a view over the Tagus.
Hotel Britania: a genuine Art Deco Boutique hotel in Lisbon old town with 30 spacious rooms and ample common areas.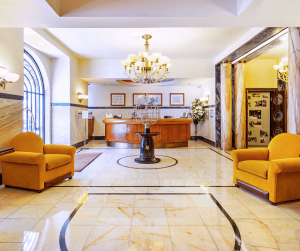 Heritage Avenida Liberdade Hotel: subject to careful rehabilitation, its 18th century building has come back to life by dint of a project of a unique nature.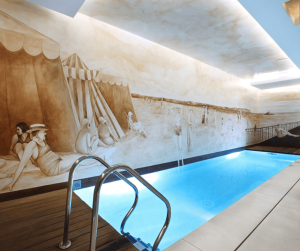 Hotel Lisboa Plaza: situated alongside the most cosmopolitan artery of the capital, this hotel is a cosy spot right in the heart of the city.
Whether you're just here for a short visit or thinking of sticking around a little longer, this checklist will help you find the very best things to do in Lisbon.