Christmas is now knocking on our door, with just a few weeks to go, and this is a perfect time to eat delicious holiday desserts.
Whether you are looking for traditional Christmas desserts or need a few ideas to try some new treats, these mouth-watering recipes will be the highlight of the holiday season.
Gingerbread cookies
Gingerbread cookies are very popular in many countries around the world. Some countries, like Norway, add pepper to the list of ingredients to give them an extra spicy kick.
These biscuits stand up well to coffee and tea, so you can put them in your afternoon nibble tray. Once you master the classic recipe, you'll be able to make gingerbread cookies that even Santa would be proud of!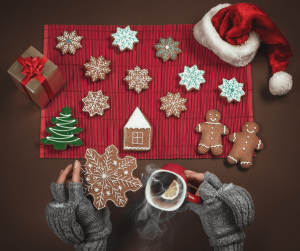 Dresdner Christstollen
The Dresdner Christstollen is a piece of cultural history produced in bakeries in and around the city of Dresden, in the German state of Saxony. This delicious treat consists of moist, heavy bread baked with dried fruits, candied citrus peel, nuts, and spices. You should try it if you haven't yet!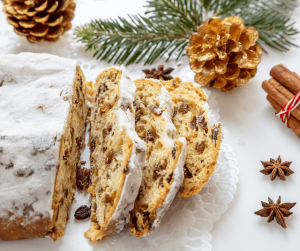 Panettone and Pandoro
Panettone is a beloved Christmas dessert in Italy. It is a sweet bread loaf containing candied orange, lemon zest, citron, and raisins. Originally from Milan, today Panettone is a favourite dessert across Italy during the festive season.
The eternal rival of Panettone, Pandoro is the other traditional Italian Christmas cake. This star-shaped dessert is covered with confectioners' sugar and it is usually accompanied by a delicious cream prepared with eggs, sugar, and mascarpone cheese.
No matter if you prefer Panettone or Pandoro. They're both finger-licking!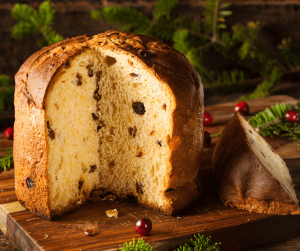 Kūčiukai
Lithuanian Christmas Eve Biscuits (Kūčiukai) are bite-sized biscuits made with poppy seeds and typically served with a glass of milk.
You can try these delicious baked goods not only in different places in Lithuania but also in other countries, where there are people who cherish Lithuanian Christmas traditions. Eating them is a delight!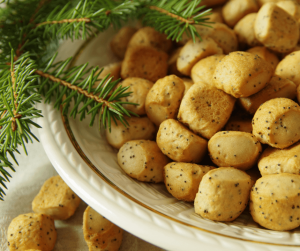 Makowiec
Makowiec is a yeasty dough with a poppy seed filling like a roulade. This traditional Polish dessert has several other ingredients which determine its character. Examples include sultanas, orange and lemon zest, chopped nuts, and vanilla sugar. You can enjoy Makowiec with a cup of coffee.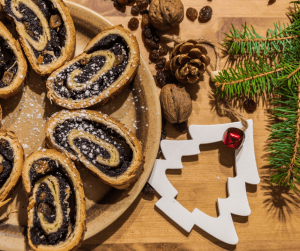 Bûche de Noël (Yule Log)
Bûche de Noel (or 'Yule Log' in English) is a French Christmas cake famous all around the world. This sponge cake resembles a log and has a chocolate or coffee buttercream filling, although many other versions are available. Traditionally, Bûche de Noël has confectioners' sugar decorations to resemble snow.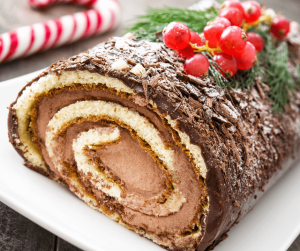 Vanillekipferl (Austrian Vanilla Crescents)
Austrian Vanilla Crescents ('Vanillekipferl') are nutty biscuits shaped into half-moons and dipped in vanilla powdered sugar. Originally from the city of Vienna (Austria), these biscuits are also popular in other parts of Europe like Germany, the Czech Republic, Romania, Slovakia, and Hungary. Although Austrian Vanilla Crescents is a typical Christmas recipe, nowadays, people can enjoy them any time of the year.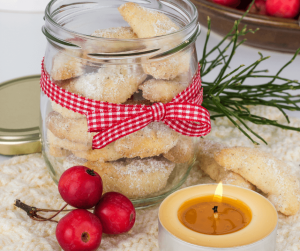 It's just not Christmas without these delectable desserts! Moreover, you can find many of these holiday desserts at traditional European Christmas Markets. So, give one, two, or all of these desserts a go this holiday season and share your sweet craving with us in the comments below.