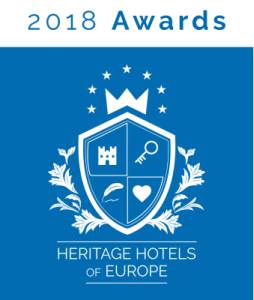 We proudly present the
Heritage Award winners 2018:
Heritage & Design Award: Chateau Gbeľany, Gbeľany, Slovakia
Heritage & Wellness Award: Grandhotel Praha, Tatranská Lomnica, Slovakia
Heritage & Gastronomy Award: Strasserwirt – Herrenansitz zu Tirol, Strassen, Austria
Heritage & Hospitality Award: Romantik Hotel Gmachl, Elixhausen, Austria
Heritage & Culture Award: Hotel Schloss Leopoldskron, Salzburg, Austria
Heritage & Romance Award: Hotel Château Béla, Belá, Slovakia
Host of the Year 2018: Prónay Castle, Alsópetény, Hungary

Awards 2019
Do you have a favorite hotel you feel should receive official recognition for providing outstanding experiences? If so, you can easily suggest your preferred establishment to receive one of the following awards:
Heritage & Design
Heritage & Wellness
Heritage & Gastronomy
Heritage & Hospitality
Heritage & Culture
Heritage & Romance
Host of the Year
The Heritage Hotels of Europe Awards will be granted every year in autumn. The voting period 2019 will be introduced soon on this website.